January & February 2005
WORKSHOPS
ADIRE
We were pleased to have Gasali Adeyamo, a visiting Nigerian artist, come to Aba House to conduct an Adire workshop. He was enthusiastically recieved and will come back again.

Adire is a resist technique that uses cassava paste to block out images. The cloth is then dyed in indigo. Like many African crafts, it is not being practiced by many contemporary artisans. It is labor intensive and takes great care and patience to complete.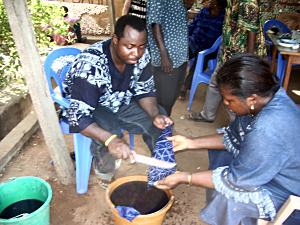 JOURNAL WRITING
Anne Sayre Wiseman, an American teacher, writer and artist taught various workshops. She went into public schools and worked with teachers on crafts made from paper and also taught journal writing at Aba House.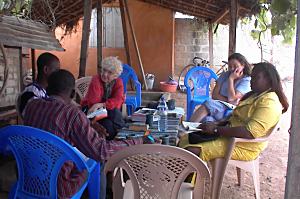 And, as always, workshops were held for the neighborhood children. We made wonderful hats and worked on several drawing assignments.