MOSAIC MURAL WORKSHOP
July 2004
facilitated by Laurel True
After a one year absence, Laurel came back to Aba House to continue the mosaics. They are slowly mushrooming along the back wall.

As part of a 3-dimensional mosaic workshop, she and two Americans and many Ghanaians completed an image of African mythological creatures and next to it a wall of adinkra symbols. Next to this we installed our back gate. Next to this our mosaic crew completed "Respect The Earth", a wonderful shower of flowers.

Perhaps the most thrilling moment came when the children requested wall space to create their own mosaic without any adult help. There is Aba, labeled in case she wasn't recognized, Talk True, Aba House manager, the American flag, the Ghanaian flag, and there's a bird...maybe a duck. Never quite figured out what he represented. We don't ask too many questions because we don't want to inhibit the children's creativity.

This same mosaic crew created a rap song about the mosaic and sang it at our farewell performance wearing their mosaic goggles and using the nippers as a microphone. Just priceless.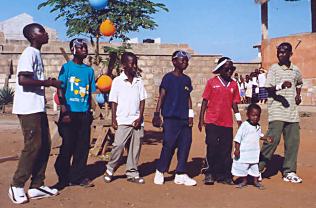 Mosaic Mural August 2001


Mosaic Archway August 2002