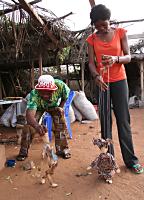 First week: puppet making workshop
Second week: optional tour in Ghana to visit sites of historic and cultural significance – slave castles-nature reserves-canopy walk-traditional villages-large outdoor markets

Yovo Kodjo master puppet maker and performer from Togo and Kobbi Klutse talented drummer, artisan and puppeteer from Ghana will teach, demonstrate and perform for 1 week at Aba House . This is a unique opportunity to study and interact with talented Africans in a creative atmosphere. Aba House sits next to the ocean in an art community in a suburb of Accra, the capital of Ghana.
Workshop facilitated by Ellie Schimelman – Director of Cross Cultural Collaborative, Inc.

WORKSHOP COST: $800.00 for one week
Includes: room and board (double occupancy) – materials
OPTIONAL TOUR : $1400.00 (based on 8 participants)
Includes: transportation in Ghana-fuel-driver/guide-entrance fees accommodations (double occupancy)- breakfast-taxes and service charges
Not Included: bottled water-lunch-dinner

Non-refundable deposit due by June1
Balance due on or before July 1
on receipt of deposit information will be sent about visa-health requirements-what to wear-what to bring-etc.
Margaret's Story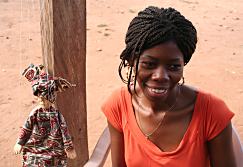 Aba House is a wonderful place to visit. When I got here I thought I would only do puppet making, but I got it all wrong because I had the opportunity to participate in other workshops like basket making, tie dye, paper making and bookbinding.
Aba House is doing a great job bringing people from around the globe to teach the local people... the knowledge got from the workshops would definitely be passed on and they could also make a living out of it, therefore, changing the society for the better.
Margaret Abuku
Theater Arts Dept.
Benue State University
Nigeria