Aba House
Aba House is located in Nungua, a fishing village in a suburb of Accra. It is close to the airport and Accra central and reached on a major roadway that ends at the Togo border.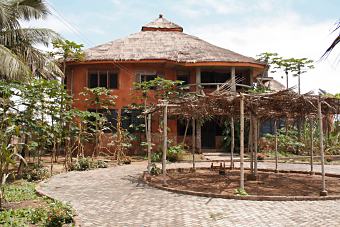 Nungua was settled by the Ga people who trace their migration from Israel. It is said that when they saw Nungua they decided to stop and settle next to the ocean and become fishermen. There are still fisherman in Nungua. In fact we walk down the road to watch them carve incredible boats out of whole trees. We can see them out on the ocean all day and night patiently waiting for their nets to fill up with fish. The only day they don't fish is Tuesday.
Nungua has also become an artists colony. Not by design, but perhaps because creative people want to be away from the city hustle and are refreshed by the ocean breeze and serene atmosphere. We have potters, batik artists, welders, fantasy coffin makers, art galleries, drummers and many free spirits all contributing to the unique character of the place.
There are also market women, teachers, seamstresses and all the other citizens that you find in any city. The beaches attract tourists and on weekend nights the live music at the nightclub pulls in a good crowd. It amazes me that so many different people and businesses can coexist here. Each time I go back there is a new restaurant, guest house, shop....you have to wonder when Nungua will reach critical mass.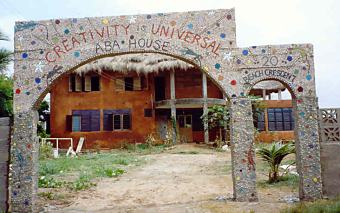 Aba House is unique even in this varied neighborhood. It is a clay house among a sea of concrete neighbors. It has a thatched roof and the only mosaic murals on this side of Accra. It is a cultural center/guest house. There are 8 guest rooms with attached private baths. Sometimes occupied by tourists and sometimes by visiting artists. It is two storied with 4 guest rooms, dining room, kitchen, gallery and many open spaces on the first floor that invite groups to congregate and 4 guest rooms, the caretakers and directors rooms and studio space on the second floor. The backyard houses a ceramic studio. Aba House was designed with many undefined spaces that can be used as needed. We envision a computer lab and a library and resource center in the near future.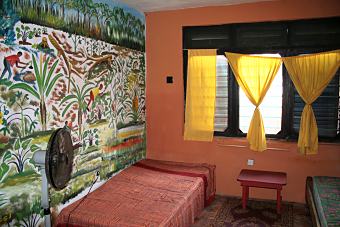 At Aba House Cross Cultural Collaborative, Inc. invites outsiders to live and work with Ghanaians for periods of 2 weeks to a month. We encourage multicultural and multigenerational exchanges that explore creative outlets. It is not uncommon to see children, adults, both professional and untrained collaborating with contemporary and traditional craftspeople. We encourage open dialogue and listen to everyone's ideas. Even passersby sometimes get involved. We create an energy that is hard to resist and we believe that everyone is both a teacher and a student.
Twice a year Aba brings outside artists to Nungua to facilitate workshops. Every August it is not unusual to have several happening at the same time and the activity revs up in Feb./March also. At other times there are also workshops in session, but usually just on weekends.