VOICES
Our vision is to place people from different life experiences in an environment where they can exchange ideas and find universal connections. I think that we have accomplished that. After participating in a workshop Ghanaians look forward to the next one and outside artists come back every year. Everyone involved feels inspired to continue the creative process.
On this page are the voices of some of the artists who have participated in our workshops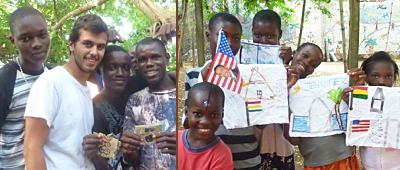 Charlie Michaels
Charlie came to Aba House to work with the neighborhood children and to study the Ghanaian culture. He and the Aba House kids made an appliqué flag based on the flags of the Asafo tradition.
After two solo trips to Aba House, Charlie returned with 10 students from the University of Michigan. The students had to have a community service project, so they divided into 3 groups, each group included Aba House kids. It was a busy 3 weeks. Except for the mural, community members came to work with us also. Charlie and his students found time to visit a few sites of historical interest and celebrate two birthdays and, of course, there were cakes and candles.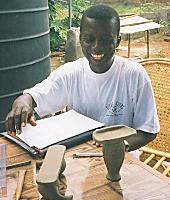 Sammy Ansi
Sammy is an artist who teaches at St. Theresa's Training College in Hohoe, Ghana. A graduate of Kumasi University of Science and Technology, he has a Masters' Degree and before teaching worked as a professional potter. Sammy co-facilitated the ceramic furniture workshop and is instrumental in organizing and implementing many of our workshops.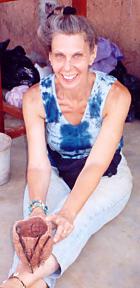 Barbara Allen
"I did not make the decision to go to Ghana lightly. Traveling to Africa for most Americans is a momentous decision on many levels. I had set very specific goals which could only be achieved by being willing to risk the physical and psychological discomfort intrinsic in traversing a culture very different from my own. I was searching for a path leading to creative and spiritual renewal in my own work as a sculptor. I was interested in working and collaborating with artists who approach the art making process very differently than we do in the West."

Marcy Prager
"When staying at Aba House, there is always something to do. One doesn't always need to plan. It just happens. The daily comings and goings of the artists and friends always leads to lengthy conversations that teach you about the spirit and life of Ghana. An artist will always take time out of his/her day to take a visitor somewhere special. They have an everlasting positive effect on newcomers."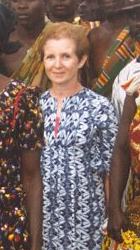 Ellie Schimelman ("Aba")
Ellie graduated from Rhode Island School of Design in 1960 with a degree in Art Education. She was an art teacher and supervisor in public schools for over 20 years and taught adult education classes in the Boston area. She was also a professional potter and part owner of the Cambridge Artists Cooperative crafts gallery in Harvard Square, Cambridge, MA. Always attracted to African art, Ellie took her first trip to Ghana in 1978. Since then she has returned many times to research and study traditional crafts, do volunteer teaching and take people on crafts and culturally centered tours of Ghana. She now devotes herself fulltime to directing Cross Cultural Collaborative, Inc. and facilitating workshops held at its cultural center in Ghana.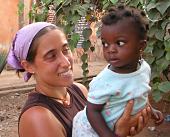 Dani Abrams
After serving as a Peace Corps volunteer in Namibia, Dani took a detour to work with the children at Aba House in Ghana before returning to the States to attend graduate school. The children loved her and she was all things to them including teacher, mother, counselor...
read one of her monthly letters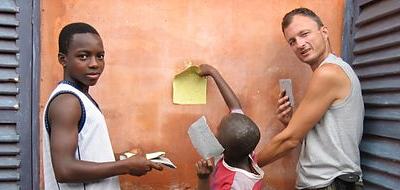 Shawn Sheehy
Shawn teaches at Columbia College Chicago Center for Book and Paper Arts. He spent the month of August 2005 teaching papermaking bookbinding at Aba House, experimenting with plant fibers and other indigenous materials and supplies. Shawn is a nationally recognized bookbinder, he has made all sorts of books including edible books and pop up books.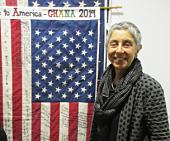 Adrienne Sloane
Adrienne is an artist who's research investigates, through the medium of textiles, social, environmental and political issues. She came to Aba House for an artist residency and as her project asked Ghanaians to write a message to America on the US flag. The flag was part of an exhibit called "Message To America", with people from Australia, Canada, Mexico & Ghana reacting to the consequences of the 2016 American election.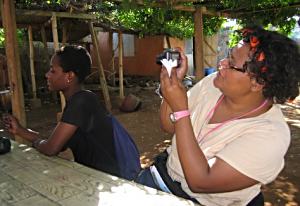 Kim Hall
"This summer I led a group of Barnard College students on a trip to Ghana. During my acclimation time I was able to spend a few days immersing myself in traditional Ghanaian textile production at Aba House in Ghana with my friends, Tessie and Ani."
Read about Kim's experienece at Aba House and learning about Ghana's textile traditions: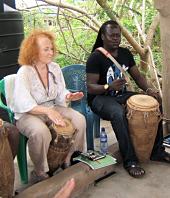 Kate Donohue
"Words are not enough to express my appreciation for all you have given our group. You are such fun and I enjoy our connection. Each trip to Ghana is so expansive for me and eye opening about culture and privilege. Thank you again for offering this to me a second time. I hope and intend for there to be a third and more."
You can read about Kate's experience in Ghana, on her website: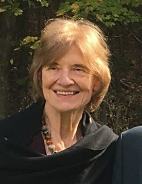 Anne Serafin
"The summer's adventure was incomparable. No other tour can offer the combination of camaraderie with artistic and cultural experiences provided by Aba House... I was not aware of the wealth of experiences I would have there."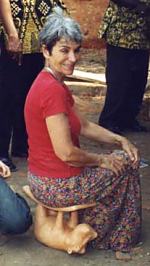 Gigliola Caneschi
"The most important aspect of my stay in Ghana at Aba House was the human quality of the people I met there. Aba's house is like a magnet, there is a permanent coming and going of children, neighbours, local workers, artists coming to show their work and share a talk with Aba and her friends, visiting artists from other countries, local craftsmen and everybody is open to listen to somobody else's experience and the atmosphere is very light and joyful."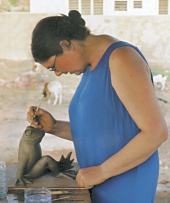 Jen Robinson
"Aba House was a wonderful place to work. I met Aba through Francis Boateng, the sculptor who I went to Ghana to work with. I participated in a ceramic furniture making workshop which was taking place there while I was in Ghana. My work station was up on the flat roof, under a small thatched shelter to protect me and my work from the sun. From this vantage point I could watch life going on around me, and the world could watch me too. Various friends of Aba, and other local people would come up to see what I was making, and in this way I met some of the local crafts people."
You can read about Jen's experience working with African artists, on her website: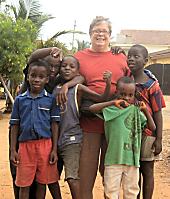 Susi Hall
"The artists who come to teach at Aba House take home the special experience that comes from living within a little village, instead of passing through as tourists. They forge friendships, learn humility, and know that creativity is finely honed through the soul rather than by an abundance of materials."
A mixed media artist, Susi came as a volunteer to teach papermaking to the kids at Aba House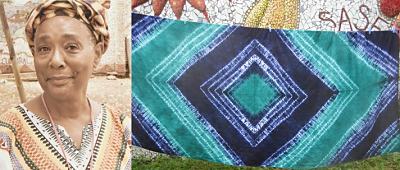 Judith Whyte Whitmore
"My stay at Aba House was very enjoyable. It was a pleasure to meet Aba and her kids. The tie and dye class was fun and so were the trips to town. Being at Aba House was a rewarding and satisfying experience."
Judith came to Aba House to learn textile techniques.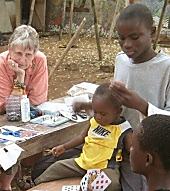 Barbara Bussolari
"As an artist, I went to Ghana with my eyes wide open and left four weeks later with my heart filled with wonders. You cannot travel anywhere in the world and find a more friendly, accommodating, and proud people. Being on "Ghana time" is something all obruni should experience.
Aba House was amazing and wonderful. Talk True served us meals along with a healthy dose of local lore and with the help of Emmanuel, I even learned to wash my clothes without a machine. The kids…what can I say. They were so open and giving, I found myself doing more learning than teaching. The whole Ghana experience was one I would love to repeat and I can recommend it to anyone."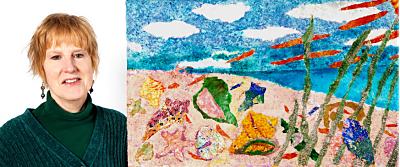 Barbara Fletcher
"I arrived in Ghana in August of 2006. I had always wanted to travel to Africa so I was finally able to realize this dream. At the same time I was also nervous and apprehensive about immersing myself in a culture so different from my own. I arrived at the airport in what seemed like the middle of the night. Embarking from the plane I felt like a rock star as people crowded around waiting for visitors to descend the tarmac. How can one sum up Ghana? First, I had incredibly interesting experiences at Aba House. The Ghanaian people are amazingly good spirited and welcoming considering their circumstances. The culture is lively and a spiritualism and trust in God pervades that I will never forget."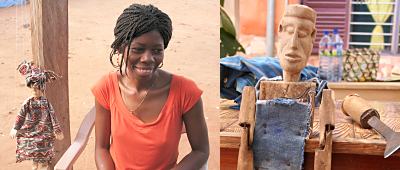 Margaret Abuku
"Aba House is a wonderful place to visit. When I got here I thought I would only do puppet making, but I got it all wrong because I had the opportunity to participate in other workshops like basket making, tie dye, paper making and bookbinding. Aba House is doing a great job bringing people from around the globe to teach the local people... the knowledge got from the workshops would definitely be passed on and they could also make a living out of it, therefore, changing the society for the better."
Margaret came from the Theater Arts Dept. of Benue State University in Nigeria to study puppet making with Kobbi at Aba House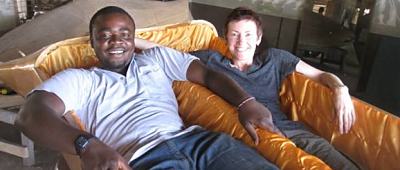 Leah Woods
Leah is an Associate professor at the University of New Hampshire. She teaches woodworking and sculpture and loves to travel. In 2013 she came to Ghana where Cross Cultural Collaborative arranged a special collaboration for her with Eric Adjetey Anang. Every morning she would leave Aba House to travel by tro-tro (local bus) a few miles down the road to Kane Kwei Carpentry Shop where she learned the art of making fantasy coffins with "the boys." These coffins are made by men in Ghana so she attracted amused attention. The following year Eric did an artist-in-residency with her students in the USA, bringing the collaboration full cycle and fulfilling Cross Cultural Collaborative's mission of cultural exchange.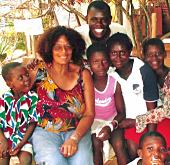 Leslie Gumede
Leslie came to Aba House from London every summer to work with the kids. She was a visual and book artist. She loved Ghana and the kids. In every photo she is smiling. One summer she died unexpectedly and we lost a member of our Cross Cultural Collaborative family. A memorial quilt was made by the kids and adult artists and Aba wrote a poem.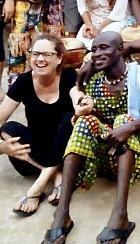 Aviva Krispel
"A lot of people around me are traveling in the world. Some times I find myself envying them. But a trip like you arranged for us makes me understand this is the way to travel, not from the outside but from inside. Although I am sure this is only the tip of the iceberg. Thank you so much"
Aviva is an Israeli potter, she came twice to Aba House. The first time for a residency, and the second time she organized an Israeli group for our tour to Northern Ghana.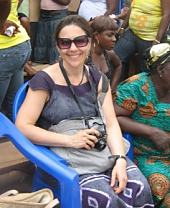 Silvia Forni
"Aba House has been a fantastic home during my stay in July 2009. I came to Ghana to understand more about the making and use of the sculptural coffins produced in a number of Teshie workshops, not far from Aba House. Thanks to Aba and her knowledge of the people and the area, I was able to establish very fruitful contacts in a very short time and my trip was very successful and enjoyable."
Silvia is curator of African Arts and Culture at the Royal Ontario Museum. She spent a month at Aba House. Each morning she would go off to the coffin makers and come home at night with stories to tell. Aba took her to Paa Joe to buy a white mercedes and Charile was her camera man at 2 funerals where the deceased were buried in the folk art coffins.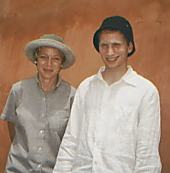 Alex Bud
"Ellie 'Aba' Schimelman hosted me at Aba House and has been a source of wisdom, inspiration and kindness over many years."
The youngest non-Ghanaian participant we had in a workshop was Alex Bud from the UK. He first came to Aba House for our writing workshop when he was 17 years old. He was particularly interested in interviewing Ghanaians who had experienced British Rule. We went into some villages and found people who were willing to talk about life under the British. Many years later, he came back to Aba House to research some of his PhD material. Now Alexander Bud PhD checks in with Aba now and again and has become part of the Cross Cultural Collaborative's family. When people ask what is so special about our programs, one of the answers is the interesting people we attract and the many participants who stay in touch with us.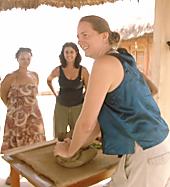 Susan Peterson
Susan, a San Francisco potter and teacher, spent four months in Ghana with her husband, Bosco, who was volunteering to help people solve computer problems. Susan, when she wasn't playing on a woman's soccer team, volunteered to teach in schools and also generously gave her time to facilitating pottery workshops at Aba House.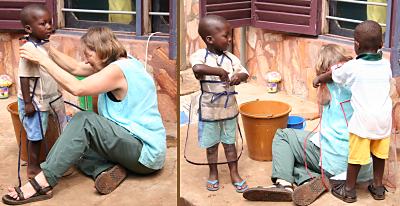 Marta Herbertson
Marta first volunteered in 2005. She is a papermaker/book artist from Australia. Besides paper arts, she is a computer whizz and printed our first newsletter. Surely the hardest working volunteer, when everyone was ready to sleep Marta was busy at her computer or experimenting with local materials. She returned a few times and only stopped her visits because the journey from Australia was long and financially difficult. Marta is still one of our loyal supporters and we miss her in person visits.
"Despite the long journey from Australia, I have stayed at Aba House as a volunteer many times and I just loved, loved, loved my extended periods there. For a textile lover, Ghana is paradise."