Ghana
The Republic of Ghana is unique in so many ways. On March 6,1957 it was the first African country to attain independence from colonial rule. It is an English speaking country surrounded by French speaking Togo, Cote D'Ivoire and Burkina Faso.
The southern border is a stretch of beautiful coastline with inviting beaches. Each of its 10 regions offers a different experience-from infamous slave castles and traditional artisans, to game parks and the only canopy walk in Africa.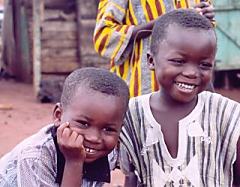 Originally a fishing village, Accra is now a cosmopolitan capital with an international airport.
Ghana is near the equator with warm and humid temperatures, a summer rainy season, and a beautiful spring like August.
"Feel Free" is an expression you hear often in Ghana. It means that you are free to be yourself and to explore what interests you. The people are known for their friendliness and hospitality and Ghana has a democratic government that makes keeping visitors happy a priority.
Although Ghana is a small country, about the size of Oregon, the indigenous crafts are collected worldwide and there are many festivals and activities that celebrate its rich culture and heritage.
Ghana is the perfect destination for anyone with a strong interest in African art and culture.
Our Two Books on Ghana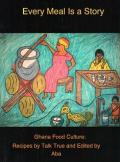 Every Meal is a Story
Our new book inspired by Aba House visitors who ask for Talk True's recipes. The book is also a commentary on the culture of food in Ghana.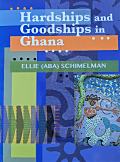 Hardships & Goodships in Ghana
Written by Aba, a collection of true stories that are a good cultural orientation to Ghana.
Some Impressions of Ghana
A person who never travels believes that his mother's cooking is the best in the world,
by Aba click to read
Short stories... impressions of Ghana,
by Aba click to read
Africa For Africans: A Black Americanís Return to Africa,
by Anthony Delaney click to read