Tours of Ghana
In addition to residencies and workshops CCC organizes tours in Ghana that introduce participants to the rich art and culture of the country. CCC is able to facilitate whatever areas of interest people want emphasized. Be it pottery, textiles, various ethnic groups, slave routes or festivals, we can take you there.
Below is an example of a tour arranged with a group of basketweavers.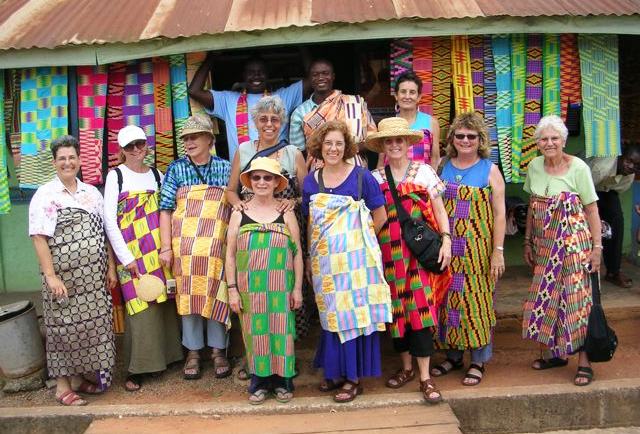 Fibert Artist Tour of Ghana, September 2006
Written by Jeanie Pratt, one of the tour participants, for the Los Angeles Basketry Guild Newsletter
Jackie Abrams led a group of fiber artists on a 3 week tour of Ghana in September. The group included 5 members of the LABG, Judy Mulford, Leah Danberg, Peggy Weidemann, Polly Jacobs Giacchina and I. Also on the tour were Jo Stealey, Doris Messick and Patricia Burleson.
This was not a tour for sissies. The trip was filled with adventures and misadventures. Ghana is in West Africa near the equator. The weather was very hot and humid and one never knew when there would be electricity. There were bumpy roads, deep mud and biting mosquitoes.
Our home base was Aba House, which is on the outskirts of Accra, the capitol city.
It is a truly unique facility with fabulous mosaics on the walls, a resident monkey, Sacapee, and a crusty cook named Talk True. The yard was often full of energetic, friendly children.
Aba (a.k.a. Ellie Schimelman) is a retired art teacher from the Boston area. She has many ties to Ghana and lives there part time of the year.
Jackie has been working with the non-profit agency Cross Cultural Collaborative, Inc. It was started by Aba to improve the lives of local children throughout the neighborhood. They have been developing products made from handmade paper as means to raise funds for the kids.
Jo contributed some of her paper making expertise while she was there. We all had the opportunity to interact with the kids. They treated us to drumming and dancing on several different occasions.
The Ghanaian people were marvelous and made us obroniís (white people) feel very welcome. Our group experienced a phenomenal range of activities in the three weeks. About half of our time we traveled around the lower portion of the country packed in a van with Chuku, our driver. Our group was nicknamed the Giggling Gaggle , as there were many animated and humorous discussions about our experiences and the different approach to life in Ghana versus the United States. The names of the businesses along the roadside were particularly delightful. A couple of my favorites are "So Far So Good Fast Food" and "Best Brains College Remedial Classes."
Ghana has numerous skilled artisans working in a range of media. They included weavers, basket makers, bead makers, adinkra stamp makers, asafo flag makers, potters, tailors, fantasy coffin makers and other wood carvers, jewelers and metal artists who use the lost wax casting technique. As a tool junkie I developed a great respect for the sophisticated and beautiful objects made with very simple technology.
We also saw weaver birds and their extraordinary random weave nests.
Many of us enthusiastically supported the artisans, coming home with bags full of beautiful examples of the Ghanaian crafts and souvenirs.
Aba arranged a workshop on Adinkra carving and stamping at Aba House. The symbols are carved in calabash to create a stamp. Each design has a distinct meaning. Dark brown designs are stamped onto fabric using a dye from a tree bark. The fabric was originally produced for men to wear like togas to funerals.
Bobbo, a renowned Ewe weaver, invited us to his home in the Volta Region. We were treated to weaving demonstrations, and feasted on green coconut and a delicious lunch. There are 2 tribes of kente weavers in Ghana, the Ewe and the Ashanti. Each tribe has a distinct weaving style and patterns that are named. I purchased a beautiful strip cloth from Bobbo that was named Amegbor which means comfort or settled. Woven into the cloth were motifs of objects that symbolized this. They included shoes, umbrellas, stools, combs, butterflies, hearts, goats and chickens.
We spent a day in Odumase Krobo, where we visited the well known bead maker, Cedi. He graciously demonstrated how to make several kinds of beads. This was followed by a stop at the world famous bead market.
Several days were spent in Kumasi, which is the center of the Ashanti tribe. We toured the Ashanti Kings Palace. We met Ashanti kente cloth weavers, with their amazing simple looms, with the warp stretched out for yards by drag stones.
There was a demonstration of casting small brass figures using the lost wax technique.
The tour included other wonderful activities beyond the craft techniques. We spent a night at a "Boatel" in the town of Cape Coast. Their restaurant was surrounded by a small lake where not so small crocodiles were trained to come for treats with a whistle.
There were large populations of weaver birds and the trees had many woven nests hanging like fruit. In Cape Coast we toured the Cape Coast Castle, from where slaves were shipped to the Americas. It was quite unnerving to visit the slave dungeons. The history of slavery was fascinating, with many groups of people involved in the slave trade. The next day we were walking high in the canopy of rain forest in Kakum National Park. There is a suspension bridge strung between the tops of the trees. It was an absolutely enchanting experience to be with the birds and butterflies in the top of the trees.
It was a trip of a lifetime for me. I was a Peace Corps Volunteer in The Gambia in West Africa 25 years ago, and was thrilled to visit West Africa again. It renewed my respect and fondness for West Africans and my fascination in West African textiles. I treasure the friendships that were formed and strengthened with my fellow travelers.