AFRICAN TEXTILE WORKSHOP IN GHANA
14 DAYS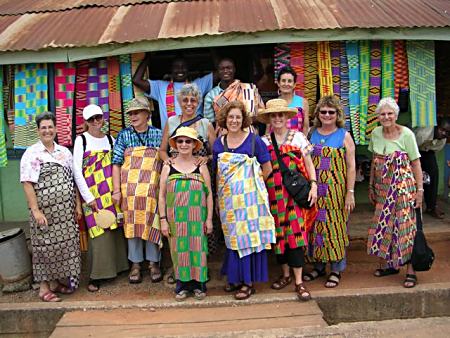 photo from our textile tour in 2006
Once upon a time in Ewe villages in Africa, women would save a small piece of each cloth that they bought and add it to a patchwork to keep as a record of how much cloth they could afford. For those with a lot of pieces, it was a very public status symbol and sign of wealth.

African cloth has always had symbolic meaning. Men and women who were taken from Africa to the diaspora had memories of cloth designs and the meanings they carried. According to many scholars, African-American story quilts retain traces of African fabric techniques of the past.

Cross Cultural Collaborative, Inc. is sponsoring a workshop in Ghana, West Africa , that will explore universal connections and ask the question: "What happens when two cultures re-connect."

Many traditional approaches to cloth patterning are being lost. Young artisans want to be modern and don't want to do the tedious work required to be authentic. There is a saying in Africa, that each time and elder dies a library is lost...and each time a traditional artisan dies a technique is lost.

The workshop will also include a lecture by Mr. Baba Muhama, an authority on African cloth and antiquities. He has consulted on many books including African Magesty. Mr.Muhama is a collector of rare old Kente cloth which he will exhibit for us. This exhibit will be complimented by a visit to the National Museum of Art in Accra.

Participating in this workshop is a unique opportunity to live and work with artists from all over the world.

CCC is an educational non-profit that encourages creativity between cultures and indigenous artisans to continue the work of their ancestors and bring outsiders to work with Ghanaians to keep the culture intact.

Workshops and accommodations are at Aba House, a building based on indigenous African architecture. Located next to the ocean in a suburb of Accra, Aba House is in a beautiful setting that will surely inspire you. Rooms are double occupancy with attached private baths. A local cook prepares meals.
WHO ARE WE?
Cross Cultural Collaborative, Inc (CCC) is an educational non-profit encouraging cultural interaction between people of all ages and nationalities. We invite people to Ghana to promote cultural exchange and understanding through the arts.

Aba House is a guest house and cultural center where workshops and other activities sponsored by CCC take place. Across the street from the ocean and only a half hour drive to the airport, Aba House is located in Nungua, a fishing village in a suburb of Accra.
WHAT WILL YOU DO IN GHANA?
Go to a local festival

Visit a famous Krobo village and beadmaker's workshop

Attend workshops taught by African artisans
adinkra

batik

tie and dye

asafo flag design

kente weaving
and more!

Visit museums-galleries- dealers in antique textiles

Attend a performance by an African drum and dance troupe
TO SIGN UP
Send us an email if interested in workshop.
If applying please send: name - email - brief CV - website or a few images of your work - how you heard about the residency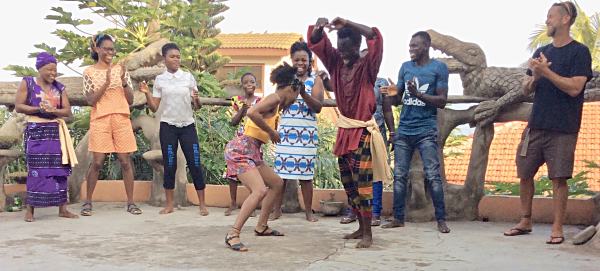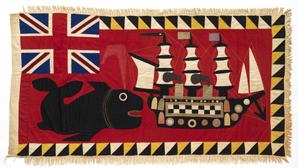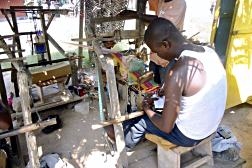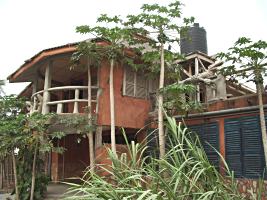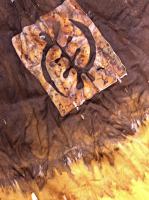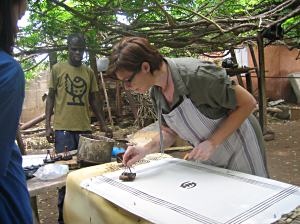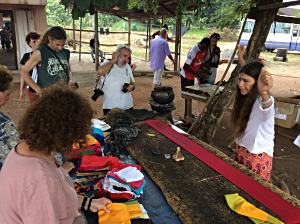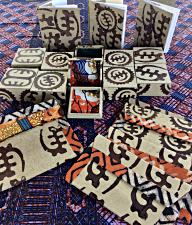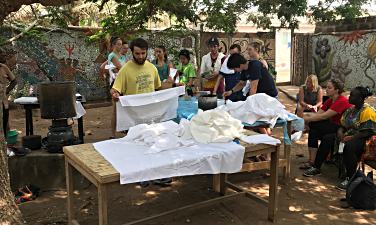 The Aba House kids make paper from sugar cane leaves & coptic books.
They'll be working in the yard & you're welcome to join them.
Our mission is to make the world a better place through the language of art